Thames Valley Police Scam Alert
Thames Valley Police are urging people in Oxford to remain cautious after an elaborate scam has resulted in victims losing a total of £15,000.
A man, described as being of Mediterranean appearance, in a dark coloured car, has been approaching people asking for directions to Heathrow Airport. 
He claims to be a fashion designer with Giorgio Armani and that he has excess stock he is unable to take back to Dubai with him due to the high cost. 
He asks people to lend him money to cover the cost of his car hire on the promise that the money will be paid back. 
He encourages the individuals to provide their bank account details and will then drive them to the bank where the money is withdrawn and handed over. 
The contact details passed over to the individuals turn out to be false and no money is ever paid back. 
This scam results in a significant financial loss and poses a risk to the victim's safety by agreeing to get in a car with a stranger. 
Where personal details including bank details have been handed over, this also leaves the victim open to identity fraud.
Thames Valley Police also are urging the following:
– Never agree to lend a stranger money, no matter how elaborate and believable their story may be. 
– Never agree to purchase or accept items from a stranger – These items may be stolen and you could be implicated as being involved in handling stolen goods. 
– Never reveal personal details to a stranger, especially banking details. 
– Never agree to get in a stranger's car, no matter how friendly and trustworthy they may seem.
Contact your bank immediately if you think you've fallen for a scam and report it to Action Fraud. 
Please always call 999 in an emergency. 
For more information, visit the national Take Five to Stop Fraud (https://takefive-stopfraud.org.uk/) campaign.

Message Sent By
Emily Boneham (Police, Campaigns Officer, Thames Valley)
Oxfordshire residents warned against coronavirus scams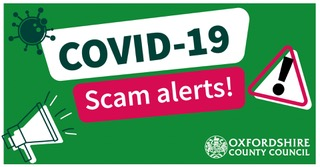 Residents have been warned to be on their guard against criminals and scammers exploiting the coronavirus situation.
In Oxfordshire, County Council's Trading Standards has received reports of scams targeting people via emails, text messages, and on the doorstep.
There are many genuine community efforts to help residents; to provide good quality advice and support. But unfortunately, not everyone is trustworthy, and some people will take advantage of this unprecedented situation.
Councillor Judith Heathcoat, Oxfordshire County Council's cabinet member for Community Safety, said:
"It is hard to believe that some people will look to take advantage of the situation our country is facing, but unfortunately this is a reality.
"Where possible, Trading Standards will pursue and tackle these despicable individuals, but preventing people becoming victims in the first place is key.
"Be a good friend; help protect your family, friends and neighbours from scams."
Jody Kerman, Head of Oxfordshire County Council Trading Standards, said:
"Action Fraud has recently reported that coronavirus-related fraud reports have increased by 400% in March.
"These scams come in many different guises so, before taking any action or agreeing to an offer: Stop, 'take five', and discuss with a trusted friend or family member."
Here are some of the scams Trading Standards is aware of…
Remember, criminals come in all shapes and sizes and can contact you at the door, by phone, post or online:
Be aware of people offering miracle cures or vaccines for coronavirus – there is currently no specific treatment for coronavirus (COVID-19).
People impersonating healthcare workers, claiming to be offering 'home-testing' for coronavirus – this is a scam and these kits are not currently available to buy.
Emails offering a refund on council tax, utility bills, or similar are usually bogus and they are just after personal and bank details.
There are lots of fake products available to buy online that say they can protect against or cure coronavirus. These will not help and are designed to take your money.
There are new mobile phone applications that claim to give updates on the virus, but instead they lock your phone and demand a ransom.
People offering to do shopping or collect medication, asking for money upfront and then disappearing.
People offering home cleaning services.
Remember: Banks or the police will never ask for account details over the phone.
Claiming to be collecting money for charities.
Tips to avoid being scammed:
Be cautious and listen to your instincts. Do not be afraid to hang up, bin it, delete it, or shut the door.
Take your time; do not be rushed into making a decision that you will probably regret.
If someone claims to represent a charity, ask them for ID. Be suspicious of requests for money up front. If someone is trying to tempt you into accepting a service, they are unlikely to be genuine.
Check with family and friends before accepting offers of help if unsure.
If online, be aware of fake news and use trusted sources such as .gov.uk or NHS.uk websites. Type-out email addresses. Don't click on links in emails.
Only purchase goods from legitimate retailers and take a moment to think before parting with money or personal information.
Protect your financial information, especially from people you do not know. Never give your bank card or PIN to a stranger.
Know who you are dealing with. If you need help, talk to someone you know or use contact numbers provided below (scroll down).
Charity collectors…
How to check if they are genuine:
Check the charity's name and registration number at gov.uk/checkcharity. Most charities with an annual income of £5,000 or more must be registered.
Make sure the charity is genuine before giving any financial information – it's ok to decide not to give on the spot. Be wary of unsolicited emails from charities you have never heard of and be careful when responding to emails or clicking on links within them.
Exercise the same caution as with any other internet transaction, for example, to donate online. Visit the charity's own website and always type the website address into the browser yourself.
Contact or find out more online about the charity that you're seeking to donate to or work with, to find out more about their spending. Ask a trusted friend, neighbour or relative if you are unable to research this or need a second opinion.
Ignore requests to donate through a money transfer company.
Contact information:
If you think you have been scammed, report it to Action Fraud: 0300 123 2040.
If you need advice, call Citizens Advice Consumer Helpline: 0808 223 1133.
If you are in immediate danger, contact the police on 999.
Contact your bank if you think you have been financially scammed.
Age UK runs a telephone support service (for older people and carers): 01865 411288.
To learn more about different types of scams and how to protect yourself and others, visit www.FriendsAgainstScams.org.uk and complete the free online training.